14 Countries Create Discipline System for Cryptocurrencies
During The 20th Integrated Financial Supervisors Conference (IFSC) in Seoul, Yoon Suk-heun, the South Korean governor of the country's Financial Supervisory Service (FSS), advised the other officials from 14 countries to create an international discipline system for cryptocurrency and ICO. Then he outlined the Korean measures to deal with managing international transactions and discipline system for cryptocurrencies. . The conference itself was held on 6-7 September and attracted representatives from nearly all over the world – the UK, Japan, Germany, Canada, Australia, and Singapore. The main aim of it was to share and discuss global regulatory issues, including those related to cryptocurrencies.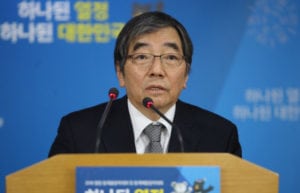 Yoon Suk-heun also called for promotion of the level of mutual communication and respond to risks in this sphere to successfully deal with the regulatory problems. Mr. Yoon said that the modern situation is quite complicated, so the first and foremost goal of the supervisors is to combat the downsides of the present financial regulation sphere while encouraging financial innovation together with minimizing the speculation and preventing illegal activities (mostly connected with ICO and cryptocurrency transaction). As the crypto and ICO activities are usually performed internationally, between the countries and borders, all the actions should be aimed at creation a trans-border discipline system which will bring mutual benefits to all the countries.
He also described South Korea's current countermeasures aimed on modern financial services like ICOs, cryptocurrency, and fintech. Among them he indicated supervision method for effective internal control and compliance of financial companies, the direction of financial consumer protection system and financial inclusion policy, effective anti-money laundering system. He expressed the belief that the internal control of financial companies is one and only way to manage the assets on the advanced level.
The governor used Korea as an example, pointing out that it applied such measures as informing international services about doubtful transactions, confiscation of criminal proceeds related to the prevention of money laundering, and expanding the exchange of information between countries.