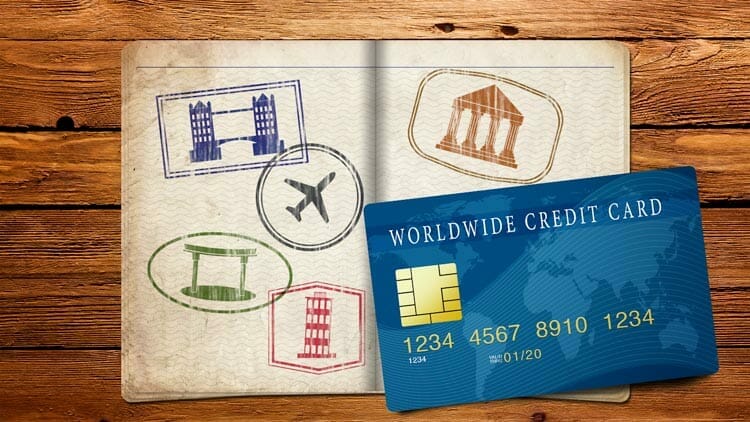 Top Credit Cards For Travel The Whole World In 2019
Frequent travelers and people who first time decided to go abroad can face a real problem with payment and keeping their money in a safe place. After all, to carry large money amount with you is not always justified and safe. Therefore, there are special solutions in the form of bank debit or credit cards for travel, perfectly suited for it.
Many lenders have made sure that their customers can use their money safely while they travel either around the country or around the world. Such a small thing, like a bank payment card, can completely replace cash.  In addition to security, credit cards for travel offer their holders various benefits, such as, for example, special bonuses and loyalty programs that will help to save money on the purchase of various tickets, cashback, or free access to comfortable airport lounges.
How to choose travel credit card?
Many popular banks offer their clients profitable credit cards for travel in 2019. There is a selection of different variations. The main thing which you need to pay attention to when choosing a credit card type is that it must have international coverage, and not only domestic. One of the most common types is cards with cash back. They return a small percentage of the price for the paid product. Also, such cards can contain discounts on the tickets purchased, various tourist services, and other discount programs.
When choosing credit cards for travel, be sure to find out about all the possibilities and additional benefits that different issuers offer. This will allow you to make the right choice in order to get the maximum benefit from using a specific credit card, as well as help you cover the cost of its maintenance. You must also pay attention to this expense of maintenance, which is provided by the bank. Some of them suggest credit interest on the travel card balance.
Another feature can be identified special credit cards for travel 2019, which allow you to travel in credit, and in the future to pay off the spent amount. This can be a very convenient way to travel anytime, regardless of the time you are paid your salary or other income. Traveling on credit will be especially relevant for those whose business is connected with traveling and constant moving around the world.
Best Credit and Debit cards for travel
Considering all the needs of travelers outlined above, we examined the options of credit cards for travel available on the market and prepared for you a selection of such variants with various useful features. Use our selection to previously determine the most suitable option for your needs. Such a conscious choice will help you save a lot of money, simplify and secure your trip.
Features of The Best Travel Credit Cards:
| Credit Card | Best For | Foreign Transaction Fee | Annual Fee | Rating |
| --- | --- | --- | --- | --- |
| First Progress Platinum MasterCard | International travel. Good for Car Rental, Hotels; Anywhere Credit Cards Are Accepted! | 3% | $49 | 4.1 / 5 |
| Golden Delta SkyMiles American Express | Sign-up bonus | No | $95 | 4.5 / 5 |
| Chase United Mileage Explorer Card | 25% back on United inflight purchases | No | $0 first year, $95 after that | 4.0 / 5 |
Most of the cards offer many days without interest and some of them go with a grace period. It is very common to get a card with such an interest-free period for a tourist trip, and this is a great benefit. Withdrawing cash on this credit card up to certain amounts is absolutely free of charge and without commissions.
This is why it's better to pay abroad with a card and take it along. By the way, the fee for annual maintenance is quite affordable.
For safety during flights and purchases, you can order a card with a chip. Such a function is especially useful if to travel to the European countries. Travel credit card is an excellent solution for going abroad, thanks to its longest grace period. Below is a rating of the most profitable credit travel cards. Carefully read this list, and select your card, which you will take with you for payment abroad.
If you are interested where to get a card for vacation abroad, then just look through this information and make your own choice. You can order a card through online registration, and the result of your application will come in few minutes:
First Progress Platinum MasterCard
Everyone can get this card very fast because of new options including expedited processing. There is no need for perfect credit history and even small credit score will be enough for approving.
Golden Delta Sky Miles American Express
This travel credit card has very attractive bonuses program. Each of your $1 spent with Delta, will bring you 2 free miles. For all other purchases, it's given credit for 1 mile to your account. You can also make a lot of bonus miles for spending a few thousand dollars in the first three months, which will bring you up to 50,000 free miles.
Chase United Mileage Explorer Card
United Airlines is a very popular air carrier with flights across the United States as well as around the world. Before you want to fly with them, just order their credit travel card. There, like with credit card from Delta, you can easily earn one full point for every dollar you spent and get twice more for United Airlines
Such credit card options, among other things, can offer travelers various benefits. Whether it is worth to miss the opportunity to earn rewards or earn miles to buy plane tickets in the near future? If you like a better travel deal, you must choose one of the travel credit cards. It will definitely pay off, if you travel often enough!
What you can get with credit cards for travel
First of all, it is worth saying that the travel credit card is very beneficial in a number of life situations. So, while using a travel credit card, you get a number of advantages like:
If it is necessary to make a purchase while traveling and there is no possibility of issuing a cash, that happens quite often when traveling;
The possibility of using cash at any time when you need it. You will only need to find the nearest ATM where you are;
Big opportunities for travel lovers. If you travel a lot, then credit cards for travel are made especially for you;
A positive credit history formation, which will help in the future for loan obtaining. By making timely payments to repay your debt, you quickly improve your credit rating and your credit history;
The availability of bonuses that significantly save you money and additionally receive a number of other advantages when making purchases with credit cards. Travel credit cards also have many of the benefits that other types of credit cards have.
The use of a travel credit card is always extremely comfortable and profitable for you, and all you need, just to follow a few basic rules:
Draw up travel cards with a bonus period.
Pay by credit card in shops, as you can save on commission.
Strictly observe the terms of payment.
In today's world, travel has become an integral part of our lives. For many people, they are caused by business necessity, for others it is just a good way to relax and expand their horizons. In any case, in travel there are expenses that need to be covered with the least financial loss. Travel credit cards not only help minimize costs when making international transactions, but they can also provide an opportunity to benefit from your spending.
---
With the right approach, the use of credit cards for travel 2019 can become much more profitable than obtaining a conventional consumer credit for travel. So, don't forget to take it to your next adventure, and if you still don't have it, get it right now!
---
F.A.Q.
How do travel credit cards work?
Almost all travel credit cards have a bonus system in the form of miles (points) for each dollar spent. Some purchases get more miles.
What is the best travel credit card 2020?
In our ranking, this is the Chase United Mileage Explorer Card. 25% back on United inflight purchases, no payment for the year, favorable conditions for accruing miles.
What is the easiest travel credit card to get?
In our ranking, this is the First Progress Platinum MasterCard. Receive Your Card More Quickly with New Expedited Processing Option.